Message from our Leader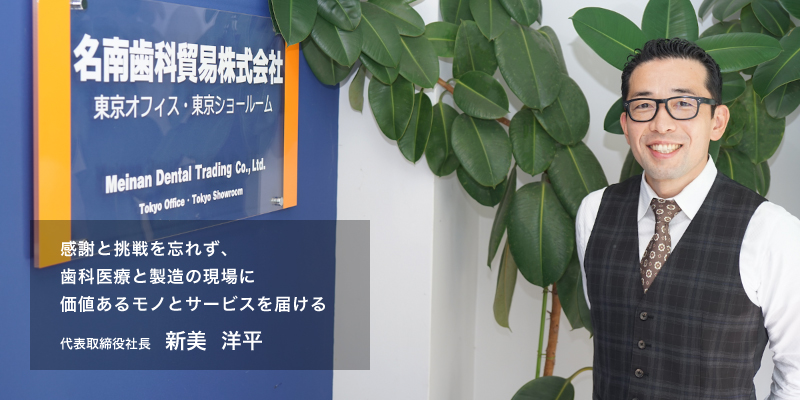 President Yohei Niimi
To all the dentistry-loving people in Japan

At Meinan Dental, we are celebrating our 40th anniversary in 2021. Meinan's story began in 1981, from a very humble office in Nagoya. When our founder, Saiji Niimi, took our company name from its birthplace (Mei-Nan stands for "Nagoya City, Minami-ward" in Japanese), it was a simple "pop and mom" style operation. 40 years later, we are now dealing with much wider range of products, from dental lab equipments/materials, dental office products, to digital equipments and software.

Our Mission

We believe our mission is to find valuable products and services from the world, translate them into something "Easy to Use," "Easy to Understand," and that can be used "with Confidence", and deliver them to our Japanese customers.
At the heart of our product development, we always place our end users who work at dental workplace. We love to hear when customers say "That is so Meinan!" and this moves us forward.

Dentistry Goes Digital

Digital technology is rapidly changing the world, and naturally our dental industry as well. Digital products are now widely used in dental workplace to increase productivity, in various scenes.
Meinan Dental focuses on integrating analogue (匠 - "Takumi") technique and digital technology, to help our customers advancing their work environment to the next level.

World-Wide Effort

Now, our global partnership spread to more than 8 countries (including USA, Germany, France, Italy, Switzerland, China, Korea). We also partner with several local companies for dental materials and equipments. We are proud to say that Meinan is well-received by our global partners, as a distributer that they can trust.